Welcome to Diagnostic Center - Farment Technology.
Sickle cell anemia is the autosomal recessive genetic disorder caused by a defect in the hemoglobin-coding gene HBB. If a person has two copies of defected gene, abnormal hemoglobin molecules are produced. These abnormal haemoglobin molecules have the ability to bind between themselves causing severe rigid deformations of the red blood cells. Deformed red blood cells took the shape of a sickle instead of normal shape and lose the ability to pass through blood vessels of extremely small diameter, i.e. capillaries. This is the cause of all the pathological changes in an organism affected by sickle cell disease.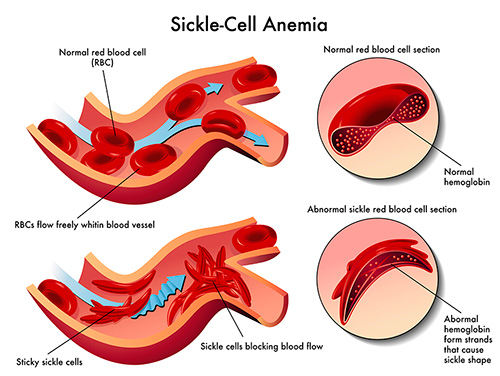 Most common clinical manifestations of sickle cell disease are linked to anemia and pain. Other manifestations are linked to the complications of the disease.
Symptoms and signs linked to anemia are fatigue, shortness of breath, dizziness, headache, coldness of hands and feet, pale skin and pain in the chest. Symptoms and signs related to pain are combined in so-called "sickle cell crises" that often affect bones, joints, lungs and abdomen. Among the complications of the sickle cell disease are hand-foot syndrome, splenic crisis, infections, acute chest syndrome, pulmonary arterial hypertension, delayed growth and puberty in children, strokes, retina degeneration and blindness, priapism, gallstones, trophic ulcers on the legs and even multiple organ failures, according to Lonergan G.J., Cline D.B., Abbondanzo S.L. (2001).
In healthy human, most of hemoglobin in red blood cells is HbA , which consists of two α-chains and two β-chains of globin proteine. "The β-globin gene is found on chromosome 11p15.5. A single point mutation in the 6th codon leads to substitution of glutamic acid for valine, resulting in an abnormal globin: βS. This results in the formation of 'sickle haemoglobin', or HbS ( α2βS2). Upon deoxygenation, βS forms hydrophobic interactions with adjacent βS globins, ultimately resulting in the polymerisation of HbS. This is the molecular hallmark of sickle cell disease." (Schnog J.B., Duits A.J., Muskiet F.A., ten Cate H., Rojer R.A., Brandjes D.P. (2004))
According to Schnog J.B., Duits A.J., Muskiet F.A., ten Cate H., Rojer R.A., Brandjes D.P. (2004), "decrements in pH (which reduce the affinity of haemoglobin for oxygen) enhance HbS polymerisation, as does a rise in temperature. The concentration of HbS in the erythrocytes is also of great importance, with higher concentrations of HbS leading to more rapid polymerisation."
Sickled red blood cells have difficulties passing through the microcirculation vessels, causing blocks in the flow of blood. Also sickled erythrocytes "have an increased binding affinity for vascular endothelium. The degree of affinity correlates strongly with the severity of clinical disease." (Lonergan G.J., Cline D.B., Abbondanzo S.L. (2001)) This increased affinity only enhances the capability of sickled red blood cells to block the capillaries. Other blood cells can take part in formation of these blocks as well, increasing the size of the block and possibly blocking larger blood vessels. As a result of such blocked microcirculation vessels organs suffer from ischemia and, if blood flow blocks are rather large, infarctions of organs may occur. Blocked blood flow and increased ischemia cause acute pain, which is another major symptom of sickle cell disease:
"Acute, painful vaso-occlusive crises are the most common, and earliest, clinical manifestations of SCA. Half of all patients with SCA experience a painful crisis by 4.9 years of age. The pain is usually described as bone pain, although crises may involve virtually any organ. They are presumed to be caused by microvascular occlusion with subsequent tissue ischemia. In young children, vaso-occlusive crises most commonly manifest as dactylitis, a painful swelling of the hands, fingers, feet, and toes" (Lonergan G.J., Cline D.B., Abbondanzo S.L. (2001))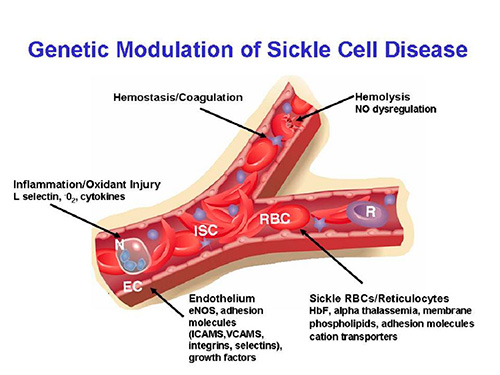 Deformed erythrocytes that have not took part in thrombs formation inside the capillaries are destroyed in the spleen in large numbers. This leads to decreased overall number of erythrocytes in blood and causes all the symptoms of anemia mentioned above. Fatigue, headache and dizziness are results of low blood oxygenation and, consequently, bad oxygen supply of the brain. Shortness of breath is a reflective response of the organism to low blood oxygenation caused by irritation of the respiratory center in the brain. Cause of coldness of hands and feet and pale skin is low level of metabolism in tissues because of poor oxygen supply.
Different complications of sickle cell disease are also caused by poor oxygen supply ot tissues or by local blood flow dysfunctions.
Currently prognosis for people affected by sickle cell disease "... continues to improve. Currently, the median survival in the United States for a patient with SCA is 40–50 years. ... Many causes of mortality and morbidity in children with SCA are avoidable with adequate antibiotic prophylaxis, early immunization, maintenance transfusion if indicated, and caregiver education. Survival trends continue to improve accordingly." (Lonergan G.J., Cline D.B., Abbondanzo S.L. (2001))
Treatment of sickle cell disease today is "based on two major goals. The first one is to decrease the intracellular HbS concentration with agents activating fetal hemoglobin synthesis or with erythrocyteactive agents preventing sickle cell dehydration. The second one is to reduce sickle cell-endothelial adhesive events" (De Franceschi L, Corrocher R. (2004)) Methods used to obtain these goals are hydroxyurea therapy, acute and chronic transfusion therapy, hematopoetic cell transplantation (Mehta S.R., Afenyi-Annan A., Byrns P.J., Lottenberg R. (2006)). De Franceschi and Corrocher (2004) state that "The beneficial role of inhaled NO in SCD has been recently reported in the treatment of acute vaso-occlusive crisis in a placebo controlled randomized clinical trial, although the mechanism of action in SCD remained unknown. … "
Hence, although sickle cell disease is rather dangerous pathology, contemporary achievements in medicine allow people affected by this disease to improve their chances greatly.
References:
De Franceschi L, Corrocher R. (2004). Established and experimental treatments for sickle cell disease. Haematologica 89 (3), 348-56
Lonergan G.J., Cline D.B., Abbondanzo S.L. (2001). Sickle cell anemia. Radiographics 21, 971-994
Mehta S.R., Afenyi-Annan A., Byrns P.J., Lottenberg R. (2006). Opportunities to improve outcomes in sickle cell disease. American Family Physician 74 (2), 303-10
Murayama M. (1967). Structure of sickle cell hemoglobin and molecular mechanism of the sickling phenomenon. Clinical Chemistry 13(7), 578-88
Schnog J.B., Duits A.J., Muskiet F.A., ten Cate H., Rojer R.A., Brandjes D.P. (2004). Sickle cell disease; a general overview. The Netherlands Journal of Medicine 62 (10), 364-74